AAMEG Africa Awards 2020: Workforce and Industry Development Winner – Geodrill Ghana
By AAMEG | 5 November 2020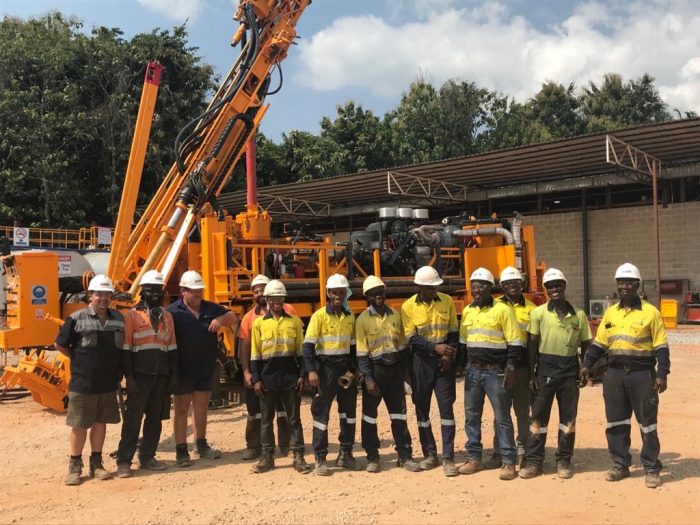 TECHNICAL MANUFACTURING TRAINING
Company Description
Established in 1998, Geodrill is a leading exploration drilling company with a fleet of 67 drill rigs operating in Africa. The Company has operations is Ghana, Burkina Faso, Cote d'Ivoire, Mali, and Zambia.
Geodrill provides Reverse Circulation, Diamond Core, Deep Directional Drilling, Air-Core, Grade Control, Geo-Tech and Water Borehole drilling services to major, intermediate and junior mining companies and operates the largest most modern fleet of multi-purpose rigs on the African continent.
Ethos: Geodrill has always invested in modern equipment and world-class operations to supply its clients with a 'one-stop' drilling solution. The Company's expertise, experience in the field, service and highest HSE standards, has earned it a reputation for delivering results as demonstrated by its impressive rig growth, attributable to a strong ethos of professionalism and customer satisfaction. Simply said, 'Quality and Quantity = Security'.
Geodrill's multi-purpose rigs offer the versatility of proving both Reverse Circulation and Diamond Core drilling and can be switched mid-way through a hole with minimal effort or down-time.  This provides clients with the flexibilty and advantage of drilling both RC and Core methods, in the same hole with the same rig, eliminating the need of having two types of rigs on site, thus reducing standby, preparation and mobilization charges normally associated with switching rigs, therefore improving overall efficiency and lowering the customers' all-in 'average cost per metre'.
Geodrill also provides Air-core drilling, a popular method used by junior exploration companies in early-stage exploration.
Initiative Description
An ambitious goal was to train local staff in Ghana, to fully build a rig in-country. This a feat no other company has achieved, in fact heavy manufacturing is limited in country with Ghana being a large importer of finished goods. The quest was to show that it is possible for locally made rigs to be built to international standards, using local labour.
Geodrill has a strong ethos of investing in employees and taking time to develop the skills required in country that would otherwise be brought in from abroad or subcontracted. In the past, Geodrill used to buy the drills from overseas and remodel to fit the local terrain. While this was a cost effective and practical way to start out, a principal of local content and a strong internal mentoring system has allowed continuous development of competence in house.
While the objective was to make from scratch a rig, it was not overnight that this could be achieved. Indeed, the last 5 years have been working towards having the right technical base and experience that Geodrill could be satisfied meets all international standards. A workshop that would have enough space to make all the parts and be able to facilitate group training was created in Kumasi.
A HR & Mentoring system that recognised the value of senior technical and drillers up-skilling juniors was put in place. The more technical skills advanced in the company with the training and experience, the more hands were available for any breakdown or repair work needed on a drill which may have previously resulted in downtime, especially should someone external need to come in.
The Minerals Commission in Ghana and Ministry of Trade and Industry have made it a supportive environment to get the necessary trainers in and advise on the path to ensure that the skills transfer is happening.
In late 2017 the first rig was created in country and just recently the 6th drill was commissioned in September 2020 and received a special visit from the Hon. Deputy Minister of Trade and Industry, Robert Ahomka- Linsday who attended the Workshop shortly after and gave the highest praise of the achievement. His comment upon arrival, was that he has never seen anything like this in Ghana, "Best international company in Ghana" he even said. This had a very rewarding impact on the staff who have worked through a tough year to ensure the rig was completed without delay. Most visitors upon visiting the workshop think it's a factory, not a drilling services company. Indeed that is the extent to which Geodrill have set themselves up to be self-reliant and make their own drilling consumables and drill rigs.
The team has had constant training, resource mobilisation and determination. Management has conveyed a strong sense that they are the best placed to build international standard drills that best fit the local terrain.
The challenges in achieving this have been to manage the cost of extensive training & manufacturing needs vs the long-term benefits. Some cultural barriers were addressed in the team being comfortable quality controlling each others work and providing and receiving constructive criticism.
Local Content
The main focus of developing a Local Content framework for Ghana's mining industry is to create local employment and to promote growth of domestic manufacturing. These two aspects, (Human Resource and Goods & Services) of Ghana's local content framework are supported by the Minerals and Mining Act, 2006 (Act 703) and L.I. 2173, 2012.
Geodrill has always ensured open dialogue the Minerals Commission and Ministry of Trade and Industry as to firstly getting the required training, and parts in country to an international standard. There is a strong agenda towards Ghanaian manufacturing and reducing reliance on imports. VW cars have in 2020 established an assembly plant in Ghana and this received much national pride to be manufacturing heavy goods like cars. Geodrill's building of a large and high value industrial machinery is a notable achievement.  It goes well beyond an assembly line. Geodrill also wanted to ensure that the training and facilities were benefiting a wider community than Geodrill employees and has hosted National Service placements there. Geodrill also planned a special visit for university students in Mining and Engineering and women in tech to encourage more women to become involved in the sector.
Training methods have been developed to allow train-the trainer. Geodrill has trained a considerable workforce of contract workers and some have gone on to use the technical skills to benefit other industries when not required on projects. This benefits everyone as it keeps contract workers keeping skills active.
To recognise the time and dedication of employees to training and mentoring others, HR & senior management have structured policy and advancement based to reflect the learning culture. This required dedicated time to be set out for learning and mentoring so that workers did prioritise accordingly and realise that they were important components of the on the job learning and teaching culture at Geodrill.
The staff have been rewarded and given credit for their achievements with the CEO, Mr Harper, ensuring that the whole team has been a part of official visits and press as he sees them as the key achievers.
Industry and Workforce Capability Development
The morale and sense of team achievement that has been created by implementing full-service training to build the rigs in house has been well noticed in performance reviews and interviews with HR. The team expressed a lot of pride to have an Australian CEO who has invested and trusted in them to work together to form rigs for international clients. The team was full of Ghanaians from welding, structural works, painting/spraying, electrical and mechanic works (engine, pumps, hoses and compressors) among others. The internal mentoring program and positive feedback given to seniors that were taking time to train and assess juniors encouraged further scale up of the mentoring system.
The achievement of building drill rigs in country is a strong sign for those investing in the mining sector that Ghana is a stable and workable country to operate in. Ghana has significant opportunities for gold and mineral exploration that attract Australian juniors. It is a safe environment and poses less risk than neighbouring West African countries. However cost of doing business is seen as higher along with rigid local content rules. Using Geodrill as a drilling partner with locally made drills can help meet local content requirements. Being able to build their own rigs as well as maintain and repair them without the need for technicians to be brought from outside of Ghana has had a significant benefit for clients as well. During the COVID crisis this meant no delays compared to those requiring equipment and service be brought into the country. Clients therefore were ensured no disruptions to their exploration activities.
Innovation
The stand out feature of Geodrill is its readiness to invest in its workforce and to ensure that clients will be benefitting from having better equipment and trained workers on their projects. This is vital to ensuring the protection of workers and company reputation. At each step of the training, the HSE Manager and HSE coordinator as well as HR have been involved to ensure that workers are ready and the facilities suitable for the next step of training and manufacturing. This was several yearsin the planning and making before the whole production came together because of the need to ensure readiness and compliance with international standards.
The rigs have been designed to be a multipurpose drill. It can be used to conduct both reverse circulation and core drilling and also further serves as a water borehole drill to provide water for communities and is on a crawler base so it can self-propel itself around in difficult terrain. In every location that Geodrill has operated, they have ensured that safe boreholes have been created for the local communities where needed. None of these efforts are formally labelled as CSR because the CEO Mr Dave Harper has put this down to common sense and just doing the right thing.
The significance of having achieved a made in Ghana rig will be something can have regional benefits with the African Continental Free Trade Area (AfCFTA). This is a free trade area that as of 2018, includes 28 countries and aims to have all of the 55 nations signed up in phases. The free-trade area is the largest in the world in terms of the number of participating countries since the formation of the World Trade Organization. Accra, Ghana serves as the Secretariat of AFCFTA and was commissioned and handed over to the AU by the President of Ghana His Excellency Nana Addo Dankwa Akuffo Addo on August 18, 2020 in Accra.  For this reason Ghana will be particularly keen to show how made in Ghana manufacturing goods can be freely traded and moved with the introduction of AfCTA. It is envisaged that this will allow a large hub for drill manufacturing from Ghana to serve the continent.
A 7th rig is underway and the team working on the construction hope that this will be the best one yet as they have planned to add further modifications to the versatility of the rig that will be allow it to best operate in the local terrain and taking into account some of the environmental changes that have evolved as the projects continue.
Other Useful Supporting Information
Ghana News Agency: Ghanaian technicians build multipurpose drill rig
Copperbelt Katanga Mining: Ghanaian technicians successfully build locally-made drill rigs
Sub-Sahara Mining and Industrial Journal: Ghanaian technicians at Geodrill build locally-made drill rigs 
Hon Robert Ahomka- Lindsay (Deputy Minister of Trade and Industry) speaking with the team on a visit to the Workshop Oct 2020.
Hon Robert Ahomka- Lindsay (Deputy Minister of Trade and Industry) speaking about Geodrill building drilling rigs in Ghana
Mr Dave Harper (CEO) during the Hon. Minister's visit.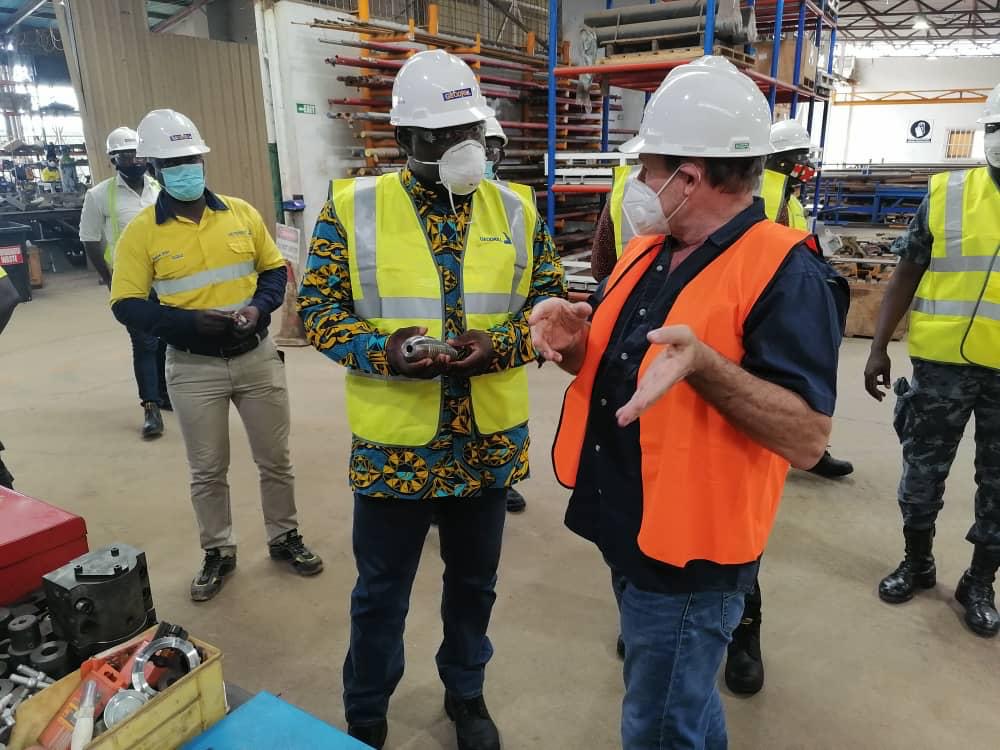 The team behind the 6th rig (in background)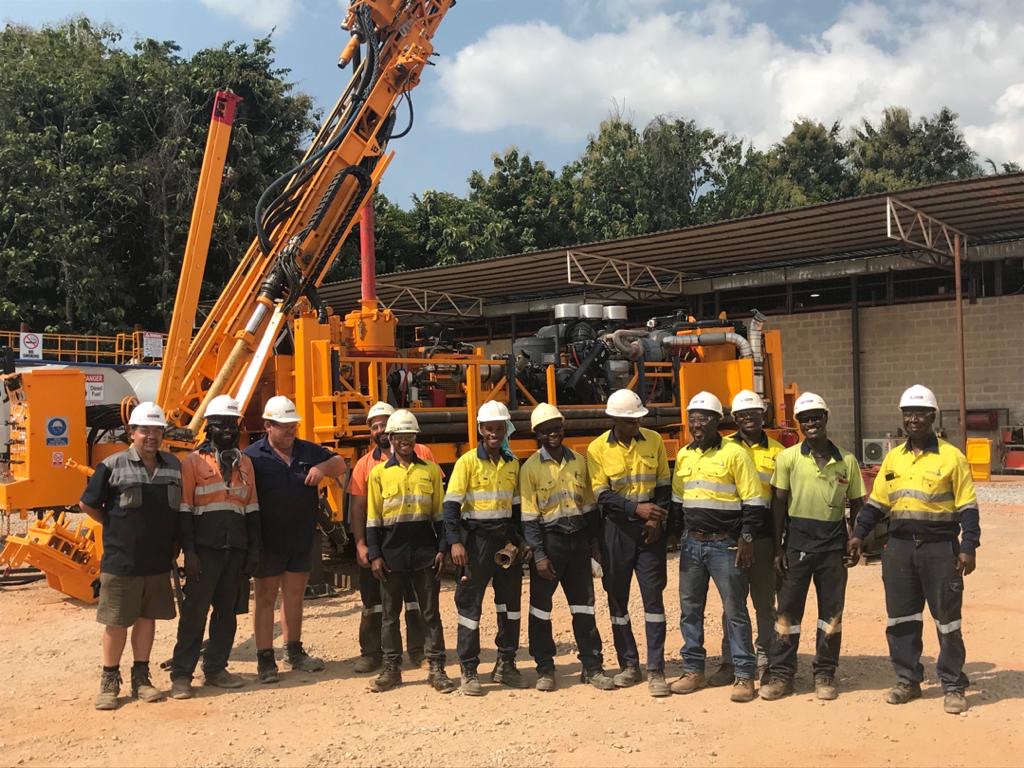 Sign-up to our Newsletter