Lepidico, Nominee for Emerging ESG Leader for an Explorer/Developer, 2023 Africa Award
By AAMEG | 5 September 2023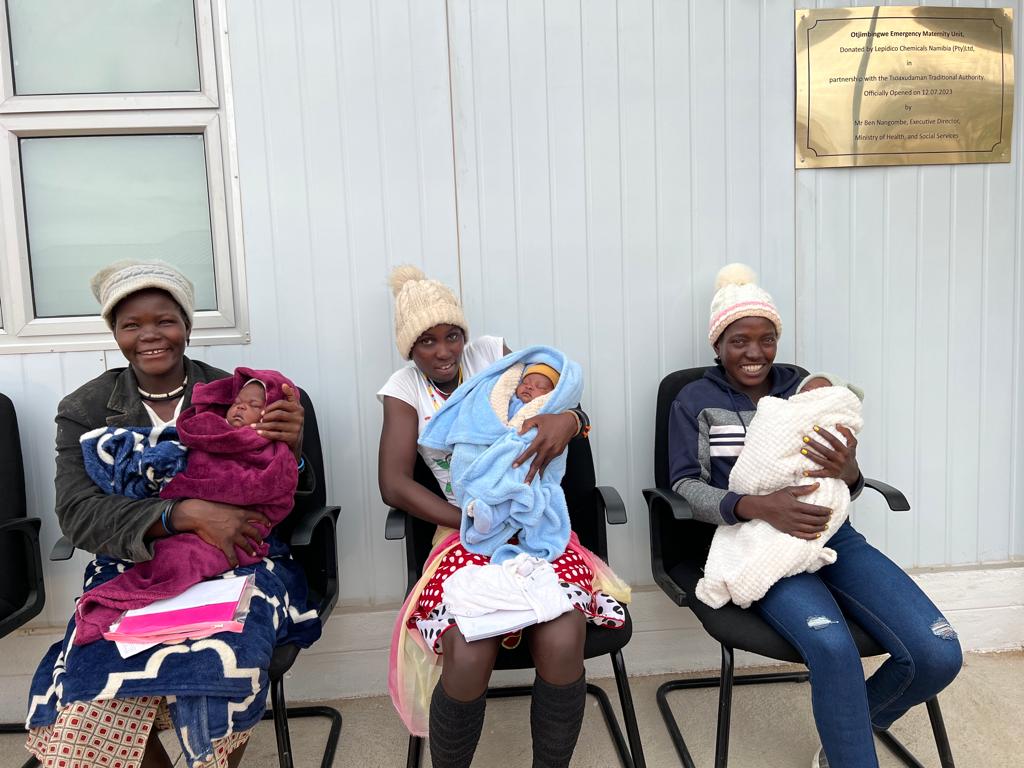 BACKGROUND INFORMATION
Lepidico is a vertically integrated lithium developer, headquartered in Perth and operating in driving change and developing sustainable practices to create a better world for future generations by supplying critical minerals to power the world's clean energy transition and leading holistic ESG solutions that empower and create opportunities its local communities.
In Namibia, the maternal mortality rate is 215 deaths per 100,000 live births, compared to 13 deaths per 100,000 live births in Europe/Northern America. Similarly, Namibia's neonatal mortality rate is 19 deaths per 1000 live births compared to 3.2 in the EU. Much of this difference can be attributed to the limited access to health facilities in Namibia and the barriers to women seeking care both during pregnancy and birth.
Otjimbingwe is a small settlement and home to approximately 8,000 inhabitants located near Lepidico's lithium mine. The Otjimbingwe settlement and surrounding farming area have more than 900 women of childbearing age and expect to typically have around 13 births per month, any of which could result in an emergency.
The existing local clinic in Otjimbingwe was ill-equipped to manage childbirth complications, however the nearest hospital with the capacity to handle childbirth-related issues is located approximately 90km away in Usakos, with around 60km of it a gravel road that is subject to challenging conditions, including flooding.
This posed considerable challenges, impeding timely access to essential medical care. In light of this distance, expectant mothers in Otjimbingwe and nearby farming communities face the pressure of reaching the distant hospital in a timely manner for safe childbirth. However, this is not always possible, and emergency deliveries and critical medical procedures like newborn resuscitation are unable to be administered at the local clinic, requiring swift hospital transfers.
Transporting women in labour from Otjimbingwe to Usakos also presented significant challenges and potential complications, with women driven in the back of a pick-up truck on a gravel road to the hospital. At night, the attending nurse is required to use a flashlight/torch to enable her to see, or when she is alone often conducts the delivery in the dark (relying on instinct and experience) while the vehicle is in motion.
Driving on the gravel road can also cause accumulation of dust on both the mother and baby during labour, which elevates the risk of infections and could lead to lengthy post-birth hospital stays. This challenging environment – in addition to the absence of medical equipment en-route – holds great risk for the mother and baby.
---
INITIATIVE: BUILDING LOCAL BIRTHING SUITE FOR IMPROVING MATERNAL AND NEONATAL HEALTHCARE IN NAMIBIA
For this nomination, Lepidico has highlighted their work in their public-private partnership with the Namibian Government to construct and supply a new maternity ward for the local community of the Otjimbingwe Settlement and improving the community's access to maternal and neo-natal healthcare. In the first month after opening, three healthy babies were safely birthed in the birthing suite.
AVERTING PREVENTABLE TRAGEDIES
Globally, every day, approximately 800 women lose their lives due to preventable causes related to pregnancy and childbirth. Almost three-quarters of these deaths occur in Sub-Saharan Africa.
The global health community has long recognised that improving the health of women during pregnancy, childbirth and post-partum represents a significant opportunity to not only save women's lives but also to improve neo-natal, infant and child health outcomes directly.
By providing a new maternity unit, Lepidico is contributing to the nation's efforts in reducing maternal and neo-natal mortality rates by having a direct impact at a local community level.
IMPROVING HEALTH OUTCOMES THROUGH PUBLIC-PRIVATE COLLABORATION
Opened in July 2023, the new maternity unit includes a delivery room equipped with a special delivery bed, as well as a wheelchair, examination lamp, a recovery room with two beds and other essential medical equipment.
The facility is also equipped with a sluice room and bathroom and is fully air-conditioned.
The new facility will ensure that emergency deliveries can be performed closer to home for these women.
In addition, it also removes the risks associated with transporting patients as births can take place at the unit before the mother and baby are transferred to the district hospital.
The facility can easily be replicated elsewhere in the country, as the designs and detailed drawings were handed over to the Ministry of Health and Social Services as well as the Ministry of Works, who oversee such establishments across the country.
CONTINUAL SUPPORT AND DEVELOPMENT TO LOCAL COMMUNITY
The maternity unit is just one of several community initiatives the company has delivered, based on the priorities identified following the 2020 Socio-Economic Baseline assessment.
Lepidico continues to support the local community and plans to be a valued partner in its prosperity for decades to come.
In consultation with the Traditional Authority, the company completed a micro-finance project to support disadvantaged women in Otjimbingwe, by building chicken coups, and providing livestock and animal husbandry and vegetable gardening training. Other initiatives include:
Provision of fire and water trailers to service both the site and local farmer community, where there have been multiple instances of scrub fires each year.
In consultation with the Traditional Authority, the company completed a micro-finance project to support disadvantaged women in Otjimbingwe, by building chicken coups, and providing livestock and animal husbandry and vegetable gardening training.
A business registration and entrepreneurship workshop for women and youth was held in Otjimbingwe, attended by recipients of existing Lepidico micro-finance projects as well as 23 women and youths who showed keen interest in starting micro-businesses.
In the longer term, the Karibib operations will provide significant benefit to the region through both direct and indirect employment with 115 full time employees, many of whom will come from local communities.
Sign-up to our Newsletter