Australian Doctors for Africa, 2023 Africa Award Winner – The Change-Maker Award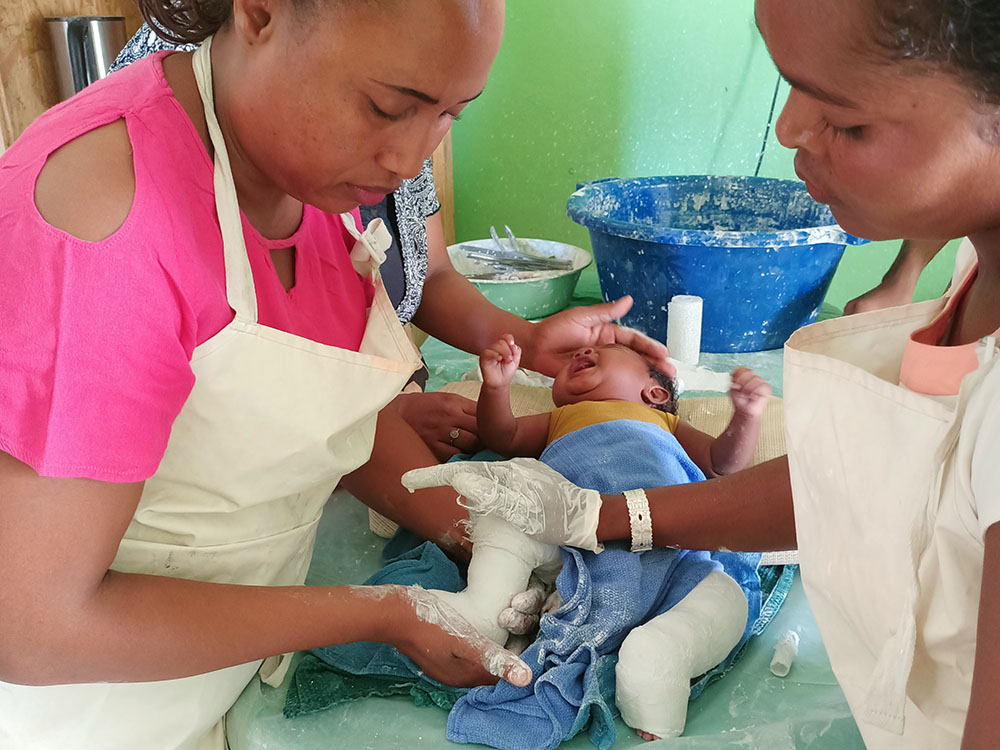 BACKGROUND INFORMATION
Established in 2005, Australian Doctors for Africa (ADFA) is a volunteer medical not-for-profit organisation headquartered in Perth, Australia. ADFA's mission is to develop healthier environments and to build capacity through the provision of voluntary medical assistance in Eastern Africa. ADFA currently works in Madagascar, Ethiopia, Somaliland and Comoros.
The Toliara region of Southern Madagascar lacks effective health systems to support its vulnerable communities. Whilst there are a number of public hospitals, they often lack equipment, supplies, and medical professionals with specialized skills to respond to complex health needs.
Children born with clubfoot is an area which lacks sufficient attention and expertise. When successfully treated children can be saved from a lifetime of disability, pain and exclusion. For a relatively small investment, clubfoot treatment is a highly effective health intervention, with significant outcomes.
Clubfoot is a complex, congenital deformity of the foot caused by the abnormal development of a baby's bones, ligaments and muscles whilst in the womb. Clubfoot can occur in either one or both feet – bilateral cases of clubfoot account for around 50 per cent of cases. It is almost twice as common in males as in females.
The exact causes of clubfoot are not known. Scientific studies have found that familial inheritance, genetics and environment are all likely to be factors which interact to cause clubfoot but how this happens is not well understood.
Without treatment, the clubfoot deformity causes a lifetime of disability including pain and difficulty in walking. Children with untreated or neglected clubfoot find it difficult to access education and employment and experience exclusion from society.
Madagascar is an island in the Indian Ocean, with a population of 29.6 million people. Independence from the French was gained in 1960. Just over 60 per cent of the population are under the age of 25, and there is a high total fertility rate of more than four children/woman. The rural population frequently lives in areas of potential mineral exploration and development and are poor; chronic malnutrition is prevalent.
Early childbearing, coupled with Madagascar's widespread poverty, and lack of access to skilled health care providers during delivery, increases the risk of death and serious health problems for young mothers and their babies.
Infant mortality is 50 deaths per 1,000 live births. Of those that survive birth, it is estimated that 1 in 1,000 will experience clubfoot. It is also estimated that over 15,000 people in Madagascar live with a disability due to neglected clubfoot.
---
INITIATIVE: CLUBFOOT PROGRAM, REDUCING CHILDHOOD DISABILITY IN MADAGASCAR
ADFA has supported hundreds of babies and children recover their walking ability by treating clubfoot during its time in Madagascar.
REDUCING STIGMA THROUGH EDUCATION
There are many superstitions and myths about the causes of clubfoot, requiring education and awareness programs to open pathways to effective treatment.
Clubfoot is a preventable disability; however, many children are living in Madagascar with neglected clubfoot through lack of understanding of treatment options and availability.
By providing community education and outreach support, and free screening and treatment program, ADFA is providing the opportunity for children to achieve their potential, free of disability and stigma.
Result: ADFA clinics have raised awareness across Tolilara region of the medical explanation for clubfoot and the available treatment. Early detection results in simple, effective treatment at ADFA clinics and lifelong benefits for the patient, and their community.
PROVIDING TREATMENT AT CLUBFOOT CLINICS
ADFA supports three Clubfoot Clinics, which provide screening and treatment to babies and young children from vulnerable communities.
ADFA's Clubfoot program operates in Toliara and Ampanihy both in Southern Madagascar; and ADFA also supports the government run medical clinic for clubfoot in Fianarantsoa.
The clinics are accessible to all families in the community free of charge and ADFA technicians use the Ponseti method of treatment, elements of which include manipulation, casting, and bracing.
In all sites, as the majority of families would struggle to cover these costs, ADFA financially supports patients by covering the cost of tenotomy operations, which are performed at local hospitals.
Result: ADFA has treated over 900 children for clubfoot in Madagascar since 2014, which enables both parent and child to be live physically independently.
TRAINING, MENTORING & MONITORING
The level of expertise, experience and professionalism displayed by the Clubfoot clinic staff is extremely high and is supported through ongoing training and mentoring provided by the ADFA Clubfoot Program Manager, who visits the clinic from Australia on an annual basis. In between visits, clinical support is provided electronically to clinic staff.
Annually, ADFA organises on average six volunteer teams of specialist medical professionals to visit each year. These Volunteer Medical Teams (VOTs) provide training to local medical staff, provide supplies and equipment where possible, and undertake surgeries for more complex cases or cases where no specialist treatment is available.
Result: In addition to its work in clubfoot, ADFA VOTs trained 150+ medical professionals and students in 2022/23 across the specialist areas of gastroenterology, urology and orthopaedics. This will lead to improved health outcomes and will have long term benefits and contribute to sustainability in the health sector.
Sign-up to our Newsletter