AAMEG AFRICA AWARDS: BEN GARGETT JUDGE Q&A
By AAMEG | 15 October 2020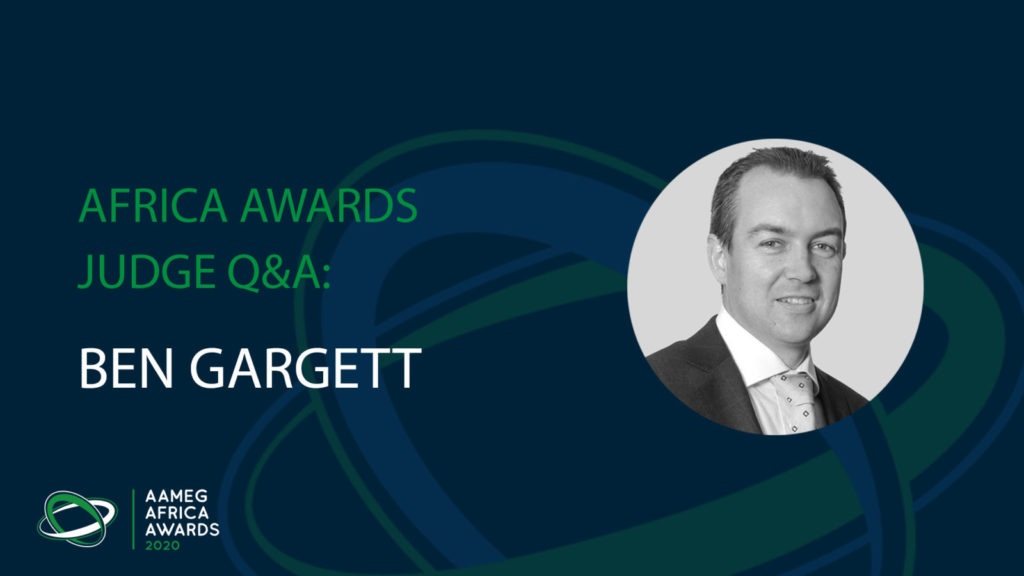 A partner at PwC's Melbourne office and Vice-Chair of AAMEG, Ben Gargett is one of the five panellists making up this year's 2020 AAMEG Africa Awards judging panel. One of the key instigators of the AAMEG Africa Awards, Ben specialises in financial assurance services to resources industry, primarily mining, but also oil and gas.
Ben's focus on the mining sector led to the development of PwC's Australia-Africa Practice, which he leads nationally. The Australia-Africa practice connects Australian companies with PwC's leading African network with the aim of advancing the capacity of the sector and maximising investment opportunities.
QUESTION 1 – Why were you drawn to working in the resources sector? 
I started out at PwC as a graduate and was put in the Energy and Mining Group – as luck (with the benefit of hindsight) would have it. I stayed because I enjoy what I do and in the resources sector I enjoy the fact that you can go and 'kick the tyres' of the assets you are auditing, they are very tangible. Resources are at the very beginning of the supply chain for anything that is produced – from the metals that go into hi-tech medical equipment, to bulk commodities that build infrastructure and base metals that go into everything; from housing to mobile phones.
QUESTION 2 – You have a well-established career, particularly at PwC. What are some of your proudest achievements to date?
In the context of work, I would say it was making partner at PwC. But in a broader sense, i'm really proud to be part of an organisation that is a team environment where you are one of a larger group of amazingly creative and smart people who are great to work with. The concept of partnership is a 'team first' mentality and I really like that. Having started at PwC it is quite special to share successes with the people who have mentored you as you have grown up within the firm and also to witness team members who work with me, develop and rise up through the ranks. Also, getting our Australia-Africa Practice set up was definitely a highlight. To create another focus area for PwC and to see that business flourish as something we created from scratch has been very satisfying.
QUESTION 3 –  In your opinion, why is it important for Australian companies mining in Africa to adhere to the ESG principles?
Recent investor and community discussion, which has been widely reported, has shown that our community has a thorough understanding of the importance of ESG. While the focus used to be entirely on profit, now we are seeing a shift in priorities toward a "longer game" approach — where securing a social licence to operate and maintaining high standards in the ESG space is required, and is something that can really differentiate a company and attract investment.
As a result, companies are working harder than ever before because it is the right thing to do. This has the flow on benefit of building credentials, particularly with their host communities to work in ethical, social and sustainable ways. I think this really shows a degree of maturity in the investor community. There is also a sense of mutual accountability at play, whereby Australian companies should really hold themselves to a high standard when working in Africa and demonstrate a consistency in approach.
QUESTION 4 –What role does PwC's Africa Network play in supporting Australian businesses involved in the African minerals and energy sector?
One of the great features of this initiative is the amazing network of firms we have on the ground. Thirty-seven of the 54 African countries have PwC member firms present on the ground, meaning we have a huge capacity to provide real-time support and advocacy when and where it's needed. We provide a range of services, including connecting people with the right local contacts, helping them set up their businesses, ensuring they understand the legal and legislative frameworks of each country, as well as contracts, audit and taxation.
Our role is to support Australian companies and help them address some of the challenges they naturally face when operating in a country far from home.
QUESTION 5 – How has the COVID-19 pandemic impacted your role and the work of PwC's Africa Network?
I was in the US when the pandemic first erupted, so it was pretty astounding to see that unfold right in front of me. From a personal point of view, I haven't been on a plane for 6 months — this hasn't happened to me for well over a decade. Without the ability to fly, our PwC Australia-Africa Practice has had to find other ways to connect – leaning on tech and digital meetings like many other organisations have, in order to retain a sense of connectivity. We've also had to rely heavily on existing relationships and rapport, and to plan really carefully when managing projects. For example, a simple audit might need to have a mine site stores manager walk through the site with an iPad on FaceTime to perform the stocktake. I guess we've accepted that all of our clients are having to change the way they operate to a degree and a bit of inefficiency is inevitable in this adjustment period. But relationships are the key – they always have been. The inability to meet face to face has really brought that to front of mind, however.
QUESTION 6 – From an AAMEG Awards perspective, what does an ESG Award Winner have to embody?
We want businesses to demonstrate that they are doing more than "business as usual". Everyone should do that, so we are looking for those who out of genuine care and interest are really going over and above the status quo to create lasting social impact. It's also really important to demonstrate tangible, measurable impacts for host communities. It's great to have innovative ideas, but it's the impact that really matters at the end of the day and that's what award winners will need to substantiate. Finally, the dollar spend isn't necessarily the most important thing. Some of the best programs might be small in budget but yield a big impact on the local community they operate in.