2020 AAMEG AFRICA AWARDS WINNERS
By AAMEG | 5 November 2020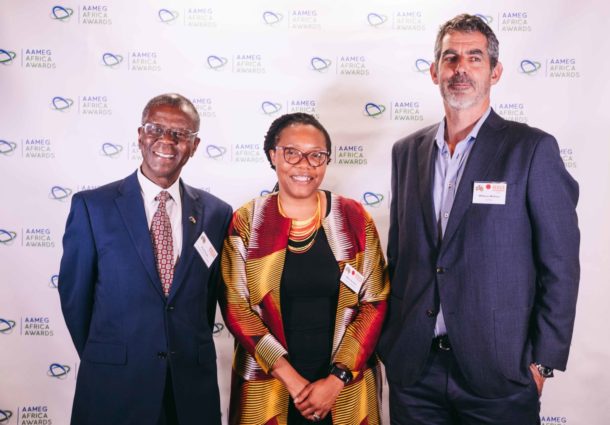 2020 AAMEG Africa Awards Judges – Left to Right – Fred Soale, Muza Gondwe, William Witham
2020 AAMEG AFRICA AWARDS PUT THE SPOTLIGHT ON AUSTRALIA'S ESG LEADERS
WINNERS:
Best Innovation in Corporate Social Development – Base Resources Limited
Best Workforce and Industry Development Initiative – Geodrill Ghana
Emerging ESG Leader – Orion Minerals Ltd
Perth, Australia: The Australia-Africa Minerals & Energy Group (AAMEG) announced the winners of the 2020 AAMEG Africa Awards at the Pan Pacific Hotel last night. The ceremony and cocktail reception was attended by mining and energy professionals, government and industry representatives and concluded an extensive nominations process as part of the official Africa Down Under Conference proceedings.
The event brought together a respected judging panel including Dr Muza Gondwe, Project Manager – Association of Women in Mining in Africa, Fred Soale, Hon Consul – Consulate of the Republic of Ghana in Perth, Tania Constable, Chief Executive Officer – Minerals Council of Australia, Ben Gargett, Vice Chairman -AAMEG, and William Witham, CEO – AAMEG.
The award for Best Innovation in Corporate Social Development was won by Base Resources Limited – an Australian based, African focused, mineral sands producer and developer for their COVID-19 Community Support Programs in Kenya and Madagascar.
Geodrill Ghana took out the Best Workforce and Industry Development Initiative for their technical manufacturing training. The drilling company, which has a fleet of 67 drill rigs operating across Ghana, Burkina Faso, Cote d'Ivoire, Mali, and Zambia won the award for their Ghana-based drill rig manufacturing programme designed for the African terrain and manufactured with local labour.
The inaugural Emerging ESG Leader Award sponsored by the Minerals Council of Australia was won by Orion Minerals who are breathing new life into the town of Prieska in the Northern Cape of South Africa. By applying imagination and innovation to community development programmes and workforce identification efforts they are recognising the priority for economic and regional development despite being in the early exploration phase of their project life.
AAMEG's CEO William Witham and host of the 2020 awards commented, "Every nominee should be extremely proud of their work on the Continent, especially in a year where there is no longer a 'business as usual', travel restrictions, a new deadly disease and fast changing global conditions. Our Australian miners in Africa have stories that deserve to be told, stories of determination, commitment and doing what we are known for as Australian's – acting with resilience."
"All nominees have demonstrated exemplary investment in good ESG principles showing leadership not only as Australians in Africa, but as welcome and trusted members of their host communities."
The AAMEG Africa Awards is the only event of its kind recognising leadership in environmental, social and governance (ESG) practices by Australian explorers, miners and industry service organisations working in Africa. The peak body representing Australian companies engaged in the development of Africa's resource industry, AAMEG has facilitated more than $40 billion in exploration, extraction, processing and potential investment by Australian miners in Africa since its inception a decade ago.
Tania Constable, CEO – Minerals Council of Australia and 2020 Awards Judge commented, "ESG principles transcend borders. Our 2020 winners have shown a strong commitment and pro-active approach to addressing ESG principles in their everyday work and are actively making a difference to the socio-economic development of the communities in which they operate in Africa."
"These principles and practices are equally relevant to Australian mining companies operating in Australia and operating overseas, because our companies have a responsibility to demonstrate best practice and transfer knowledge wherever they operate."
For more information on the winners, the nominees and the judging panel, click here.
FOR MEDIA ENQUIRIES, PLEASE CONTACT:
Skye Gilligan
Gilligan Group
T: +61 (0) 416 854 264
skye@gilligangroup.com.au
ABOUT AAMEG
Founded in May 2011, the Australia-Africa Minerals & Energy Group (AAMEG) is the peak body representing Australian companies engaged in the development of Africa's resource industry. AAMEG provides a forum for members to network and share operational experience; to advocate at an industry level on behalf of members; and to assist member companies to engage with Australian and African governments and other relevant institutions and organisations.
Sign-up to our Newsletter